Pharma Machines >>
Ointment / Cream Mfg. Plant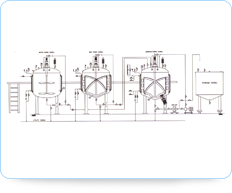 GMP's ointment/cream manufacturing plants are used in the pharmaceutical & cosmetic industries for the production of ointments, creams, lotions, toothpaste, emulsions & homogenizations. The plant is made with specially designed vessels, pipes, pipe fittings, motors and other accessories.

It includes wax phase vessel, water phase vessel, manufacturing vessel, storage vessel, interconnecting piping, bump pump / metering pump, control panel and working platform.

The vessels are manufactured from ss316 grade material and are constructed with cgmp compliant. The vessels are jacketed, insulated and cladded. A specially designed agitator assembly is provided in each vessel. Wax is melted and water is heated to desired temperature in the respective vessels and both media will be transferred to manufacturing vessel through vacuum. Both these media are homogenized to make uniform emulsion and cooled by passing chilled water in the jacket of the manufacturing vessel. After the emulsion is formed, active ingredients / colors are added and thoroughly mixed and homogenized. The prepared solution is transferred to the storage vessels by means of a bump pump.